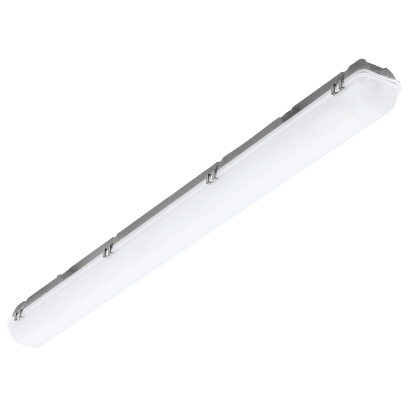 Indoor light RS PRO 5800 LED
Dynamic lighting intelligence. RS PRO 5800 LED high-frequency SensorLight, ideal for corridors, thoroughfares and stairwells as well as WC facilities, washrooms and warehouses or multi-storey car parks and cold rooms. 33 W for 4065 lumens of light, optional 10% – 50 % basic light level, integrated DALI interconnection capability, swarm function for dynamic light, RGS – Remote Group Setting function, lighting groups, including basic light level, can be synchronised, adjustment by optional RC 10 remote control.
Version
About Indoor light RS PRO 5800 LED
Dynamic lighting intelligence. And waterproof too.
Many industrial facilities, warehouses and multi-storey car parks are extremely damp. That's bad news for many lighting systems. The RS PRO 5800 is immune to moisture. This is why we have provided it with the most innovative of technology: from effortless installation and synchronisation of lighting groups by means of group parameterisation to the selection of any basic light level and its ability to switch OFF in relation to daylight. And as the icing on the cake, the intelligent swarm function always 'moves' the light with you to wherever you happen to need it. You will be well and truly impressed.
Technical Specifications
Dimensions(w x h x d)
105 x 1278 x 105 mm
Voltage
220 - 240 V, 50/60 Hz
Sensor type
High Frequency
Transmitter power
approx. 1 mW
Light colour
4000 K / SDCM 3
LED life expectancy
50,000 h (L70B10 to LM80)
LED cooling system
Passive Thermo Control
Response brightness
2 - 2000 lux
Basic light level
10 - 50%
Group parameterisation
via Remote Group Setting function (RGS)
Time setting
5 sec. - 15 min.
Degree of protection (IP)
IP66
Material
impact-resistant plastic, IK 07