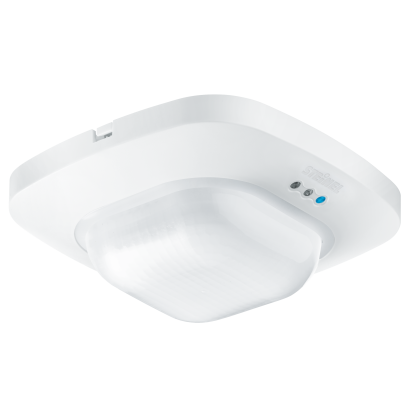 Presence Control PRO IR Quattro HD
Detection no finer! Infrared presence detector Presence Control PRO IR Quattro HD KNX for indoors, ideal for medium to large-size offices, conference and meeting rooms, classrooms and lecture theatres, sports halls and warehouses, installation height up to 10 m, with digital BUS interface for controlling 4 lighting channels and HVAC, 4800 switching zones for the ultimate in detection quality, presence detection over a true 64 m2, square detection zone, mechanically scalable.
Version
About Presence Control PRO IR Quattro HD
Cutting-edge detection quality. For cutting-edge buildings.
When it's a matter of intelligent building automation, presence detectors with extremely good detection performance are a must. The IR Quattro HD leaves absolutely no questions unanswered: 4,800 switching zones in the square detection footprint of 64 m2 – which is mechanically scalable without any loss of quality whatsoever – more or less completely rule out inadvertent triggering or blind spots. That's pure high-resolution quality and a dream that's come true for architects, property owners and users alike.
Technical Specifications
Dimensions(w x h x d)
120 x 120 x 70 mm
Power supply
KNX bus voltage
Sensor type
Passive Infrared
Application
inside buildings
Recommended installation height
2.5-10 m
Square presence detection zone
8 x 8 m max. (64m²)
Square radial detection zone
8 x 8 m max. (64m²)
Square tangential detection zone
20 x 20 m max. (400m²)
Reach mechanically adjustable
Yes
Sensor system
13 detection levels, 4800 switching zones
Settings
by means of ETS software, remote control or bus
Lighting channels Light 1 – Light 4
Switching/dimming, switching mode, constant lighting control, stay-ON time
Basic brightness
Permanently ON, 1 – 255 min, 10-50% = all night
Switch-'ON' delay
Room surveillance, 0-255 min., Stay-ON time 1-255 min.
Presence stay "ON" time output
1-255 sec. or 1-255 min.
HVAC output
depending on presence
Further outputs
Light level, sabotage protection
Light level output
in lux
Degree of protection (IP)
IP20
IP rating with AP Box (surface-mounting box)
IP54
Temperature range
-25-+55
Housing
UV-resistant, paintable